12.18.20 Press Release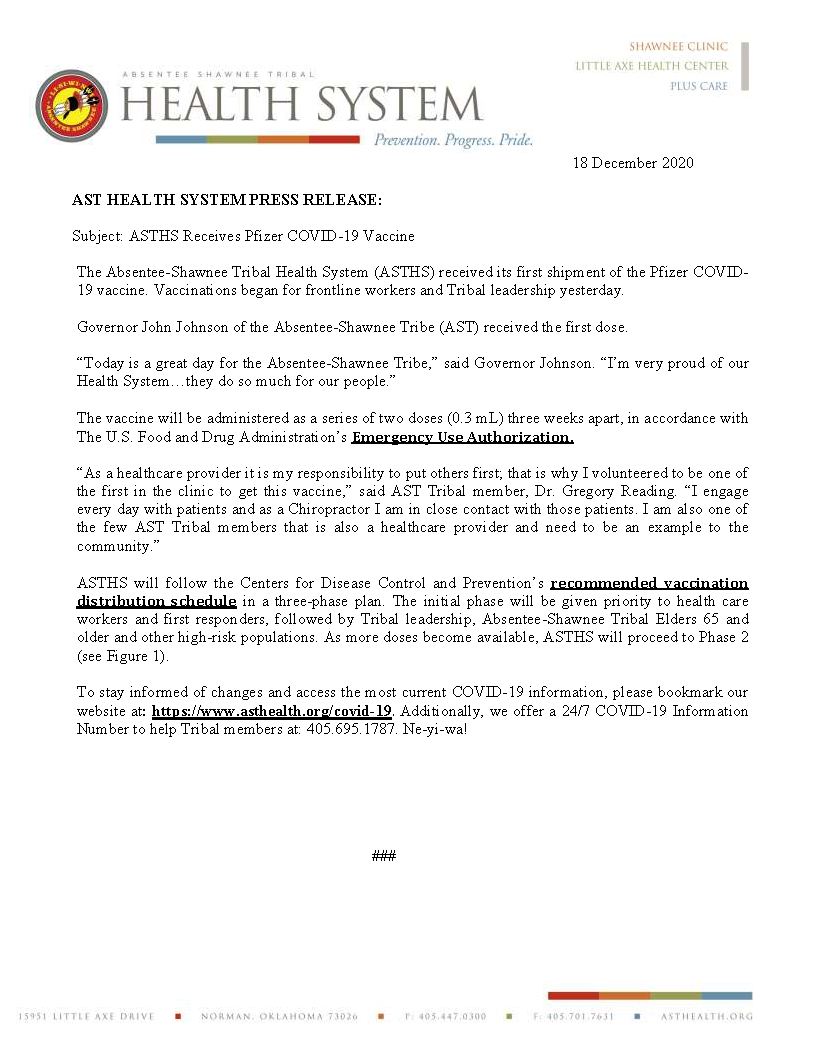 18 December 2020
AST HEALTH SYSTEM PRESS RELEASE:                                                                                                                                                      
Subject: ASTHS Receives Pfizer COVID-19 Vaccine
The Absentee-Shawnee Tribal Health System (ASTHS) received its first shipment of the Pfizer COVID-19 vaccine. Vaccinations began for frontline workers and Tribal leadership yesterday.
Governor John Johnson of the Absentee-Shawnee Tribe (AST) received the first dose.
"Today is a great day for the Absentee-Shawnee Tribe," said Governor Johnson. "I'm very proud of our Health System…they do so much for our people."
The vaccine will be administered as a series of two doses (0.3 mL) three weeks apart, in accordance with The U.S. Food and Drug Administration's Emergency Use Authorization.
"As a healthcare provider it is my responsibility to put others first; that is why I volunteered to be one of the first in the clinic to get this vaccine," said AST Tribal member, Dr. Gregory Reading. "I engage every day with patients and as a Chiropractor I am in close contact with those patients. I am also one of the few AST Tribal members that is also a healthcare provider and need to be an example to the community."
ASTHS will follow the Centers for Disease Control and Prevention's recommended vaccination distribution schedule in a three-phase plan. The initial phase will be given priority to health care workers and first responders, followed by Tribal leadership, Absentee-Shawnee Tribal Elders 65 and older and other high-risk populations. As more doses become available, ASTHS will proceed to Phase 2 (see Figure 1).
To stay informed of changes and access the most current COVID-19 information, please bookmark our website at: https://www.asthealth.org/covid-19. Additionally, we offer a 24/7 COVID-19 Information Number to help Tribal members at: 405.695.1787. Ne-yi-wa!
(Figure 1)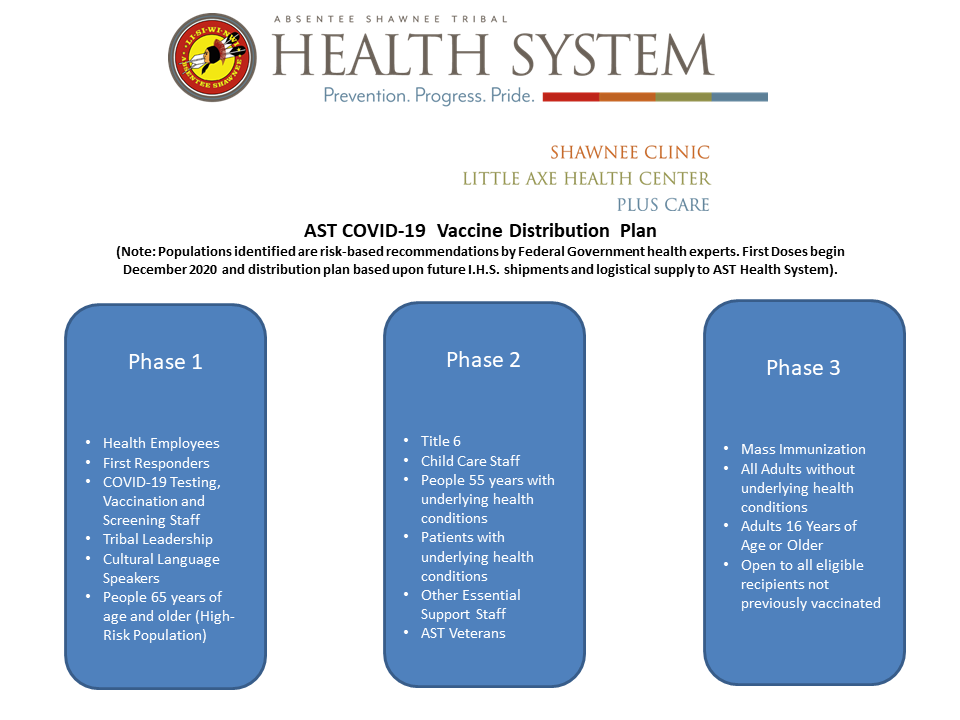 ###