12.29.20 Press Release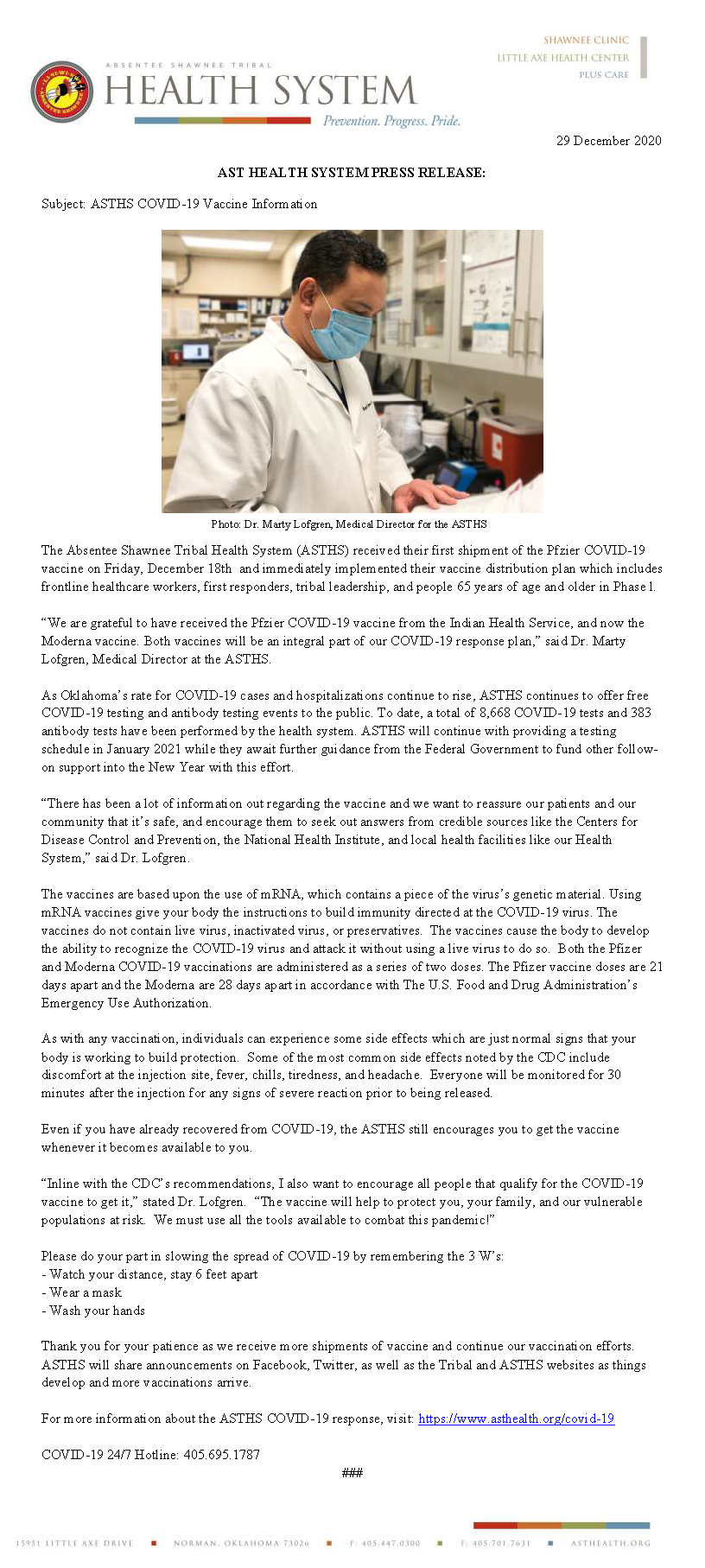 29 December 2020
                 AST HEALTH SYSTEM PRESS RELEASE:
Subject: ASTHS COVID-19 Vaccine Information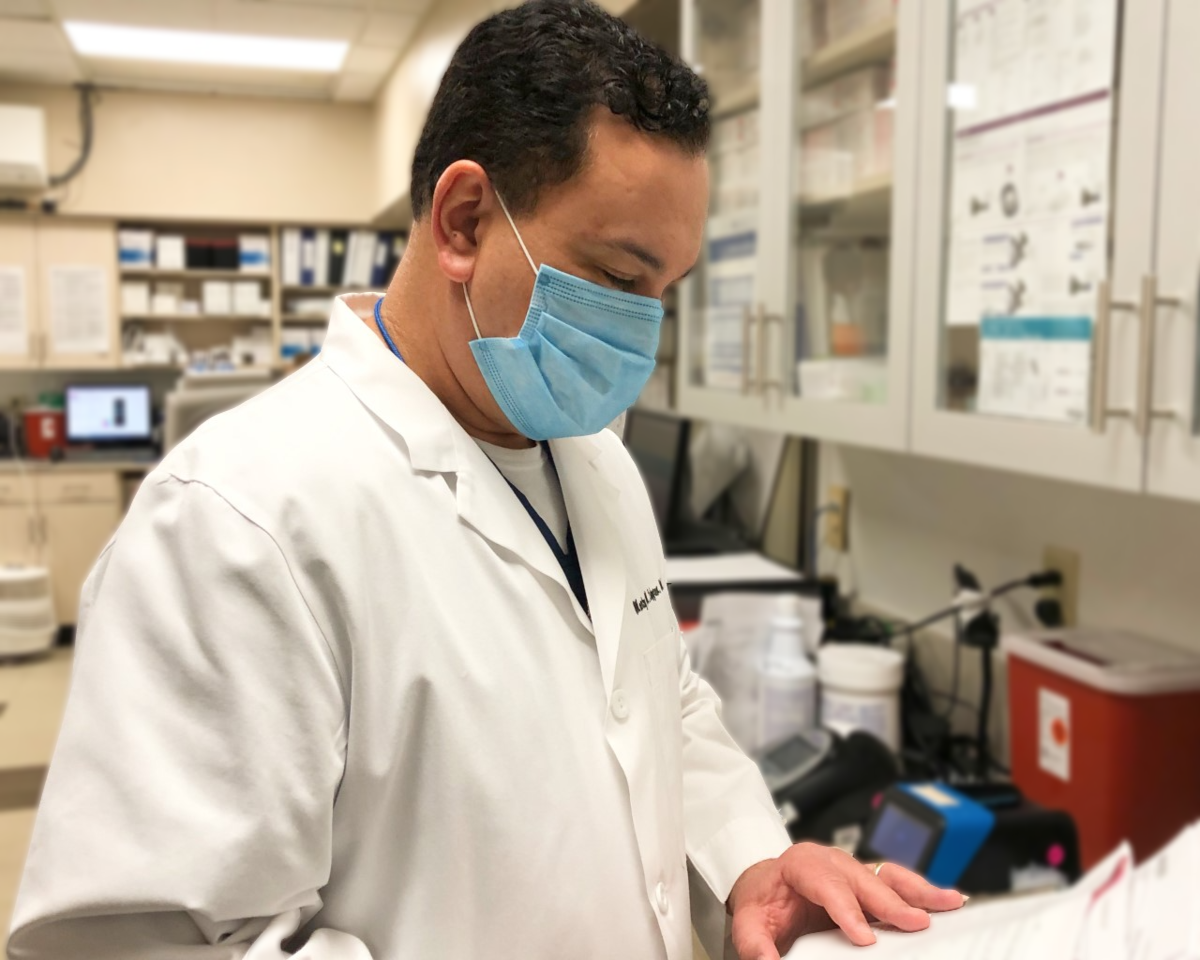 (Photo: Dr. Marty Lofgren, Medical Director for the ASTHS)
The Absentee Shawnee Tribal Health System (ASTHS) received their first shipment of the Pfzier COVID-19 vaccine on Friday, December 18th  and immediately implemented their vaccine distribution plan which includes frontline healthcare workers, first responders, tribal leadership, and people 65 years of age and older in Phase l.                
"We are grateful to have received the Pfzier COVID-19 vaccine from the Indian Health Service, and now the Moderna vaccine. Both vaccines will be an integral part of our COVID-19 response plan," said Dr. Marty Lofgren, Medical Director at the ASTHS.
As Oklahoma's rate for COVID-19 cases and hospitalizations continue to rise, ASTHS continues to offer free COVID-19 testing and antibody testing events to the public. To date, a total of 8,668 COVID-19 tests and 383 antibody tests have been performed by the health system. The ASTHS will continue with providing a testing schedule in January 2021 while they await further guidance from the Federal Government to fund other follow-on support into the New Year with this effort.
 "There has been a lot of information out regarding the vaccine and we want to reassure our patients and our community that it's safe, and encourage them to seek out answers from credible sources like the Centers for Disease Control and Prevention, the National Health Institute, and local health facilities like our Health System," said Dr. Lofgren.      
The vaccines are based upon the use of mRNA, which contains a piece of the virus's genetic material. Using mRNA vaccines give your body the instructions to build immunity directed at the COVID-19 virus. The vaccines do not contain live virus, inactivated virus, or preservatives.  The vaccines cause the body to develop the ability to recognize the COVID-19 virus and attack it without using a live virus to do so.  Both the Pfizer and Moderna COVID-19 vaccinations are administered as a series of two doses. The Pfizer vaccine doses are 21 days apart and the Moderna are 28 days apart in accordance with The U.S. Food and Drug Administration's Emergency Use Authorization.  
As with any vaccination, individuals can experience some side effects which are just normal signs that your body is working to build protection.  Some of the most common side effects noted by the CDC include discomfort at the injection site, fever, chills, tiredness, and headache.  Everyone will be monitored for 30 minutes after the injection for any signs of severe reaction prior to being released.    
Even if you have already recovered from COVID-19, the ASTHS still encourages you to get the vaccine whenever it becomes available to you.
 "Inline with the CDC's recommendations, I also want to encourage all people that qualify for the COVID-19 vaccine to get it," stated Dr. Lofgren.  "The vaccine will help to protect you, your family, and our vulnerable populations at risk.  We must use all the tools available to combat this pandemic! " 
Please do your part in slowing the spread of COVID-19 by remembering the 3 W's:
- Watch your distance, stay 6 feet apart
- Wear a mask
- Wash your hands
Thank you for your patience as we receive more shipments of vaccine and continue our vaccination efforts.  ASTHS will share announcements on Facebook, Twitter, as well as the Tribal and ASTHS websites as things develop and more vaccinations arrive. 
For more information about the ASTHS COVID-19 response, visit: https://www.asthealth.org/covid-19
COVID-19 24/7 Hotline: 405.695.1787
                                                              ###