2022 ASTHS Internship Opportunity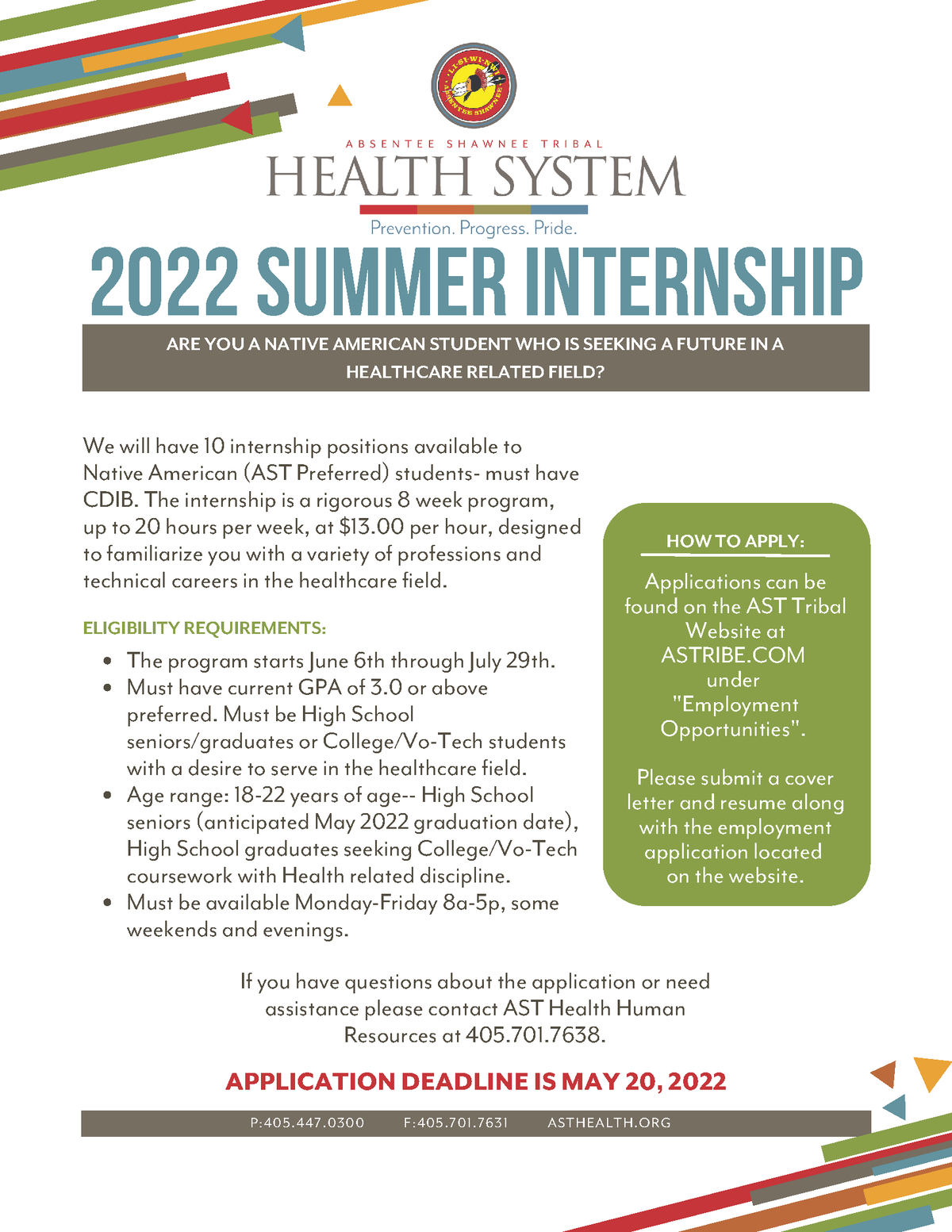 Absentee Shawnee Tribal Health System
2022 SUMMER INTERNSHIP
ARE YOU A NATIVE AMERICAN STUDENT WHO IS SEEKING FUTURE IN A HEALTHCARE RELATED FIELD?
We will have 10 internship positions available to Native American (AST Preferred) students- must have CDIB. The internship is a rigorous 8 week program, up to 20 hours per week, at $13.00 per hour, designed to familiarize you with a variety of professions and technical careers in the healthcare field.
ELIGIBILITY REQUIREMENTS:
*The program starts June 6th through July 29th. *Must have current GPA of 3.0 or above preferred. Must be High School seniors/graduates or College/Vo-Tech students with a desire to serve in the healthcare field. 
*Age range: 18-22 years of age-- High School seniors (anticipated May 2022 graduation date), High School graduates seeking College/Vo-Tech coursework with Health related discipline. 
*Must be available Monday-Friday 8a-5p, some weekends and evenings.
If you have questions about the application or need assistance please contact AST Health Human Resources at 405.701.7638.
APPLICATION DEADLINE IS MAY 20, 2022
P:405.447.0300   F:405.701.7631   ASTHEALTH.ORG
HOW TO APPLY: 
Applications can be found on the AST Tribal Website at ASTRIBE.COM under "Employment Opportunities".
Please submit a cover letter and resume along with the employment application located on the website.