2022 Open Enrollment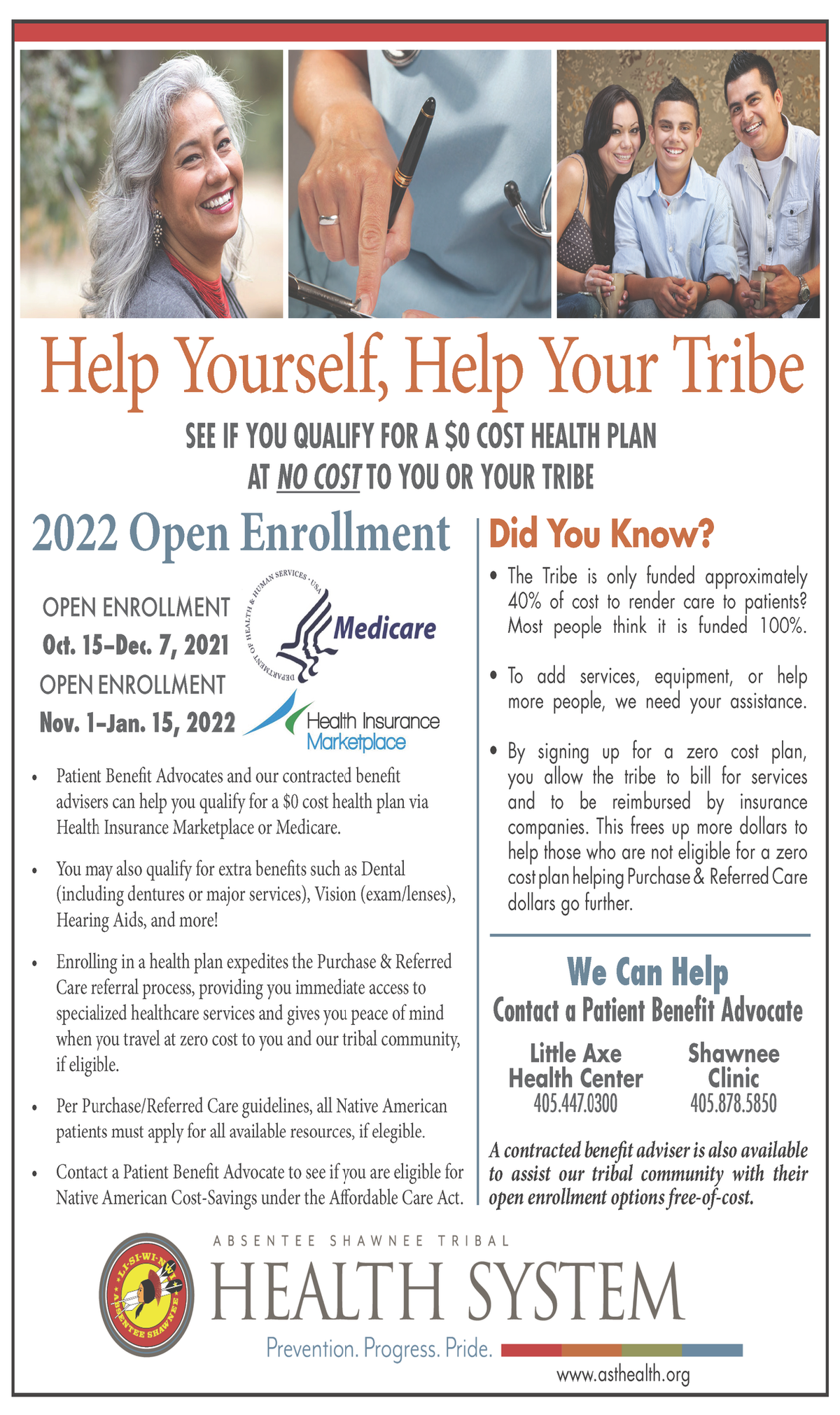 Help Yourself, Help Your Tribe
See if you qualify for a $0 cost health plan at NO COST to your or your tribe
2022 Open Enrollment:
Medicare (Oct. 15 - Dec. 7, 2021)
Health Insurance Marketplace (Nov. 1 - JAN. 15,2022)
Patient Benefit Advocates and our contracted benefit advisers can help you qualify for a $0 cost health plan via Health Insurance Marketplace or Medicare.

You may also qualify for extra benefits such as Dental (including dentures or major services), Vision (exam/lenses), Hearing Aids, and more!

Enrolling in a health plan expedites the Purchase & Referred Care referral process, providing you immediate access to specialized healthcare services and gives you peace of mind when you travel at zero cost to you and our tribal community, if eligible.

Per Purchase/Referred Care guidelines, all Native American patients must apply for all available resources, if eligible.

Contact a Patient Benefit Advocate to see if you are eligible for Native American Cost-Savings under the Affordable Care Act.
Did You Know?
The Tribe is only funded approximately 40% of cost to render care to patients? Most people think it is funded 100%.

To add services, equipment, or help more people, we need your assistance.

By signing up for a zero cost plan, you allow the tribe to bill for services and to be reimbursed by insurance companies. This frees up more dollars to help those who are not eligible for a zero cost plan helping Purchase & Referred Care dollars go further.
We Can Help
Contact a Patient Benefit Advocate
Little Axe Health Center, 405.447.0300
Shawnee Clinic, 405.878.5850
A contracted benefit adviser is also available to assist our tribal community with their open enrollment options free-of-cost.