ASTHS Press Release: J&J Vaccine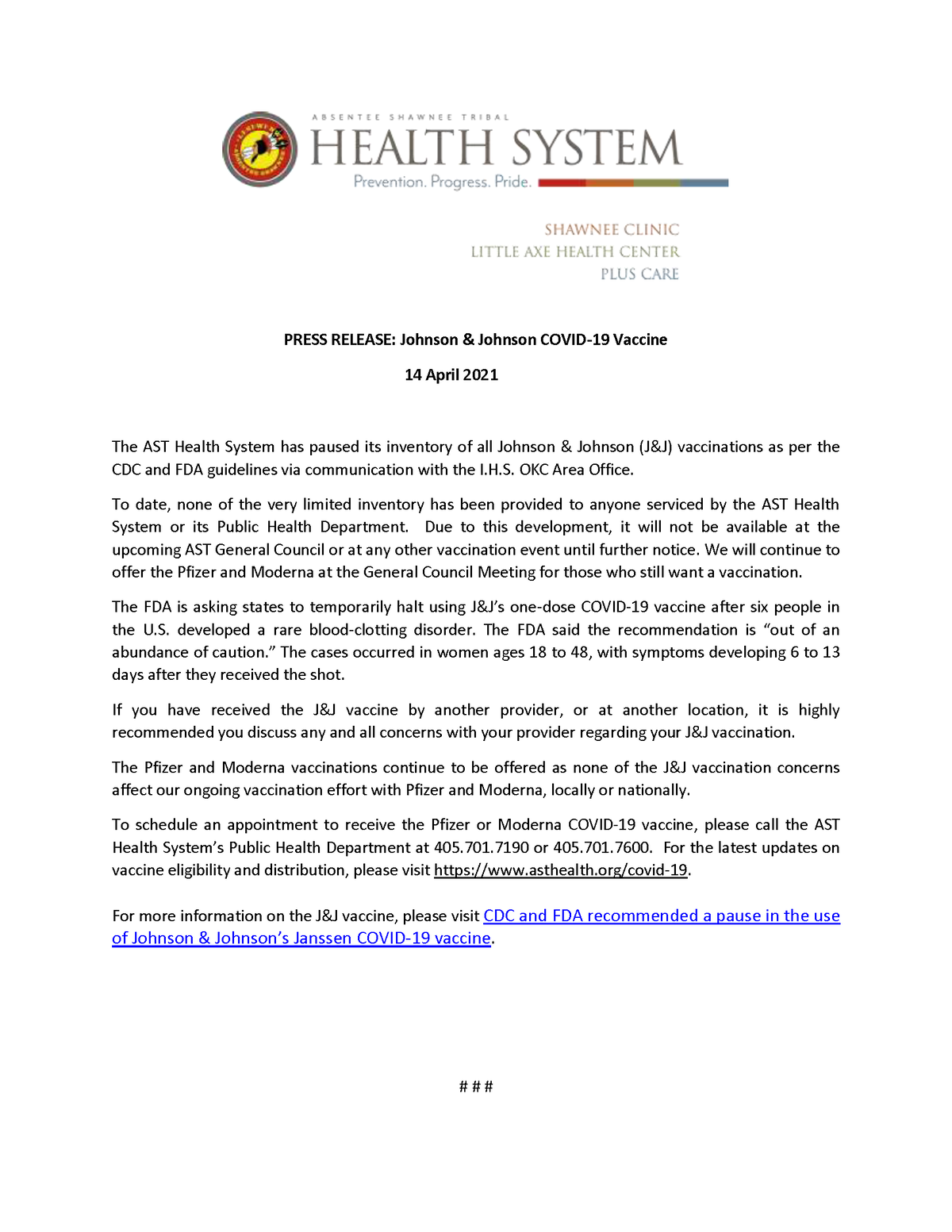 PRESS RELEASE: Johnson & Johnson COVID-19 Vaccine
14 April 2021
The AST Health System has paused its inventory of all Johnson & Johnson (J&J) vaccinations as per the CDC and FDA guidelines via communication with the I.H.S. OKC Area Office.
To date, none of the very limited inventory has been provided to anyone serviced by the AST Health System or its Public Health Department.  Due to this development, it will not be available at the upcoming AST General Council or at any other vaccination event until further notice. We will continue to offer the Pfizer and Moderna at the General Council Meeting for those who still want a vaccination.
The FDA is asking states to temporarily halt using J&J's one-dose COVID-19 vaccine after six people in the U.S. developed a rare blood-clotting disorder. The FDA said the recommendation is "out of an abundance of caution." The cases occurred in women ages 18 to 48, with symptoms developing 6 to 13 days after they received the shot.
If you have received the J&J vaccine by another provider, or at another location, it is highly recommended you discuss any and all concerns with your provider regarding your J&J vaccination.
The Pfizer and Moderna vaccinations continue to be offered as none of the J&J vaccination concerns affect our ongoing vaccination effort with Pfizer and Moderna, locally or nationally.
To schedule an appointment to receive the Pfizer or Moderna COVID-19 vaccine, please call the AST Health System's Public Health Department at 405.701.7190 or 405.701.7600.  For the latest updates on vaccine eligibility and distribution, please visit https://www.asthealth.org/covid-19.
For more information on the J&J vaccine, please visit CDC and FDA recommended a pause in the use of Johnson & Johnson's Janssen COVID-19 vaccine.
# # #